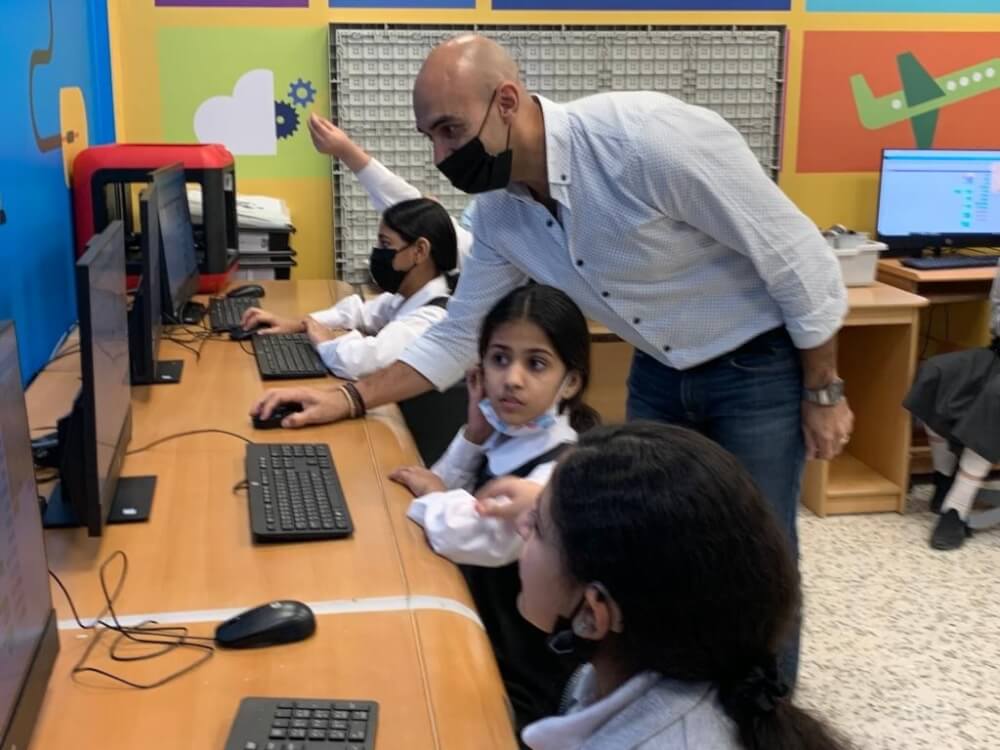 Microsoft conducts coding training for hearing-impaired students
December 8, 2021; Sharjah, United Arab Emirates: Microsoft today announced its successful collaboration with the Al Amal School for the Deaf in Sharjah to provide two days of coding training for students with hearing loss.
"Accessible technology is essential for the development of young people who must overcome the extra layers of challenges that stand in their way of growth," said Afaf Ali Al Haridi, principal of the Al Amal School for the Deaf. "Through this collaboration with Microsoft, we will be able to provide the best training and learning experiences for one of the skills most in demand in the digital world. All students deserve the opportunity to excel in their field of interest, as well as the opportunity to equip themselves with the right tools to shape their future. Our students will now be able to develop new skills and be confident in expressing and sharing their talent with the rest of the world ".
In today's announcement, which follows the International Day of Persons with Disabilities on December 3, Microsoft explained how the training provided to students on November 25 and 28 was in line with the company's continued leadership on the issues. accessibility. The sessions were designed around developing students' problem-solving skills and building their individual confidence. Over the two days, interactive teaching methods were deployed to introduce participants to coding principles and encourage them to apply what they had learned to the design and implementation of computer games.
"Over a billion people around the world live with a disability, but it is estimated that only one in ten people have access to the assistive technology they need," said Ihsan Anabtawi, COO and Director Microsoft UAE Marketing. "Plus, it's important to know that 70% of disabilities are invisible, so you don't always know what can be a challenge for those around you, and it's just as important to remember that disability – as it is. it's temporary, situational, or permanent – is something that can affect any of us, or someone we love, at any time. For us at Microsoft, through more than 25 years of work on accessibility, we've learned that people with disabilities are one of the world's largest untapped talent pools, and we're committed to leveraging technology to help open doors and create greater opportunities for people with disabilities. We are grateful to have the opportunity to collaborate and support Al Amal School and its students and are inspired by their curiosity and desire to learn and create, and hope our work can motivate others to get involved and make a difference ".
Microsoft's approach to accessibility focuses on work across the board across the company with a focus on three priorities that were outlined in our recently announced five-year commitment to closing the disability gap: Driving the Disability Gap. development of more accessible technologies in our industry and economy; use this technology to create opportunities for more people with disabilities to enter the labor market; and creating a more inclusive workplace for people with disabilities. A technological example can be seen in Microsoft Teams, which includes features like live captions for meetings, high contract mode for some content, background blur, and the immersive player built right in. in Teams discussions.
"When it comes to accessibility, we believe it is essential to fulfill our mission to 'empower every person and organization on the planet to do more,' said Anabtawi. "By working together in all sectors of our economy and society, both in the public and private sectors, as well as as individuals, we have the potential to improve the inclusion of people with disabilities – or determined people as the community is known in the UAE – for years. future – and in particular harness the power of digital technology to enable everyone to participate fully and achieve their goals and ambitions ".