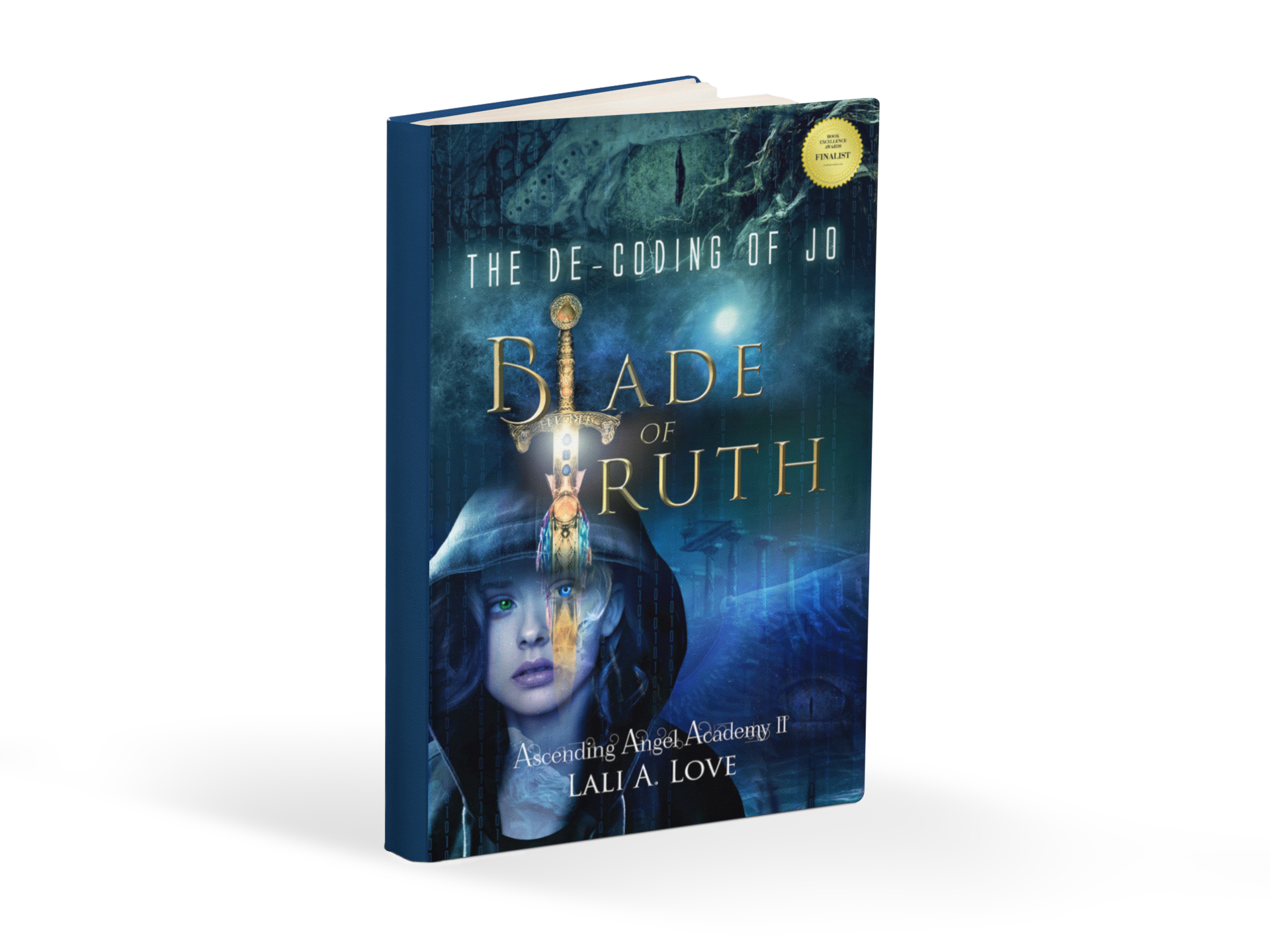 Lali A. Love, Author of The De-Coding of Jo: Blade of Truth, Honored as Top Book Award Finalist
The De-Coding of Jo: Blade of Truth is recognized as a top 2022 Book Prize finalist in a competition that celebrates excellence in books around the world.
The De-Coding of Jo: Blade of Truth by Lali A. Love is the masterful second installment in the Ascending Angel Academy series. The dark fantasy epic follows the young protagonist, Jo, in her search for friendship, boundless love, personal identity and emotional freedom. The De-Coding of Jo: Blade of Truth has been named a finalist in the Fantasy category of the Book Excellence Awards 2022. The International Book Prize competition recognizes books for excellence in writing, design and presentation. overall market appeal. The competition celebrates independent and traditional authors in more than 100 countries around the world.
"Heart of a Warrior Angel, my first novel, and The De-Coding of Jo: Hall of Ignorance, the first book in the Young Adult coming of age series, have both received prestigious awards for literary excellence.explains the author, Lali A. Love. A multi-talented, intuitive artist and energy healer, Love bridges the gap between mysticism and compelling visionary fiction to create thought-provoking works related to today's issues. "My intention is to activate, empower and inspire my readers with relatable and inclusive characters and self-actualizing metaphysical concepts through the power of storytelling."
In the second book in the Angel Academy series, Blade of Truth, the journey to enlightenment accelerates as the eternal struggle between good and evil intensifies. Dark fantasy readers will revel in the construction of a rich, multi-dimensional world that masterfully blends teenage angst, belonging, clairvoyance, time travel, and a higher calling. "I was inspired to shine a light on issues facing our youth today such as anxiety, depression, bullying, social media addiction, and body dysmorphia.", says love. Delving into the heart and mind of the adolescent psyche, Love examines common struggles with sensitivity and compassion, perfectly capturing the essence of adolescent experiences through its dynamic and engaging cast. The book explores the importance of aligning with one's inner truth in the journey to overcome trauma, with authenticity, transformation, self-love and deciphering one's true purpose – a message that today's youth could greatly benefit from internalizing.
The book has received positive reviews from some of the world's most renowned authors, journalists and critics. Halo Scot, author of the Rift Cycle series, writes:With A Wrinkle in Time and The Matrix vibes, Blade of Truth will nourish your mind, body, and soul… Lali A. Love expands the world and escalates the battles, gripping the reader with intrigue and action from page one."
The De-Coding of Jo: Blade of Truth is available for sale in all formats at Amazon, Indigo Chapters bookstores, Barnes & Noble, Apple iBooks, Kobo, Nook, Ravens and Roses Publishing and other online stores. For a limited time, readers can purchase Blade of Truth for just $0.99 on Amazon Kindle. Fans of the fast-paced sci-fi fantasy novels should also keep an eye out for the series' epic finale, Keys to Eternity, which is slated for release on July 7, 2022.
About the Author
Lali A. Love is the award-winning and best-selling author of books in the dark fantasy, science fiction, paranormal thriller, and metaphysical poetry genres. Lali bridges the gap between metaphysics and compelling literary fiction to create inclusive and thought-provoking works that relate to today's issues and elicit an emotional response, with the aim of empowering, enlightening and entertaining readers.
For its quality and powerful storytelling, Lali has received the NYC Big Book Gold Award, Global e-Book Gold Award, Elite Choice Gold Award, Book Excellence Award, Queer Indie Lit Youth Gold Award, and International Reader's Favorite Bronze . Award.
As an intuitive, alchemist and energetic healer, Lali strives to raise awareness of the world by shedding light on sensitive topics to help individuals on their healing journeys. She is an ally, a catalyst, an advocate for self-love, emotional release, self-actualization, embodiment and a supporter of causes related to equality, diversity, women and to children.
To connect with Lali, please visit: https://authorlalialove.com/.
Connect with Lali A. Love:
Facebook: https://www.facebook.com/profile.php?id=100049667520114
Twitter: https://twitter.com/laliaristo
Instagram: https://www.instagram.com/authorlalialove/
Youtube: https://www.youtube.com/channel/UCrbqL0aoUv-7kFRGuI4Y8tg
Goodreads: https://www.goodreads.com/author/show/19274711.Lali_A_Love
Media Contact
Company Name: Author News Network
Contact person: Media Relations
E-mail: Send an email
Country: United States
Website: authornewsnetwork.com