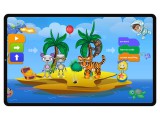 Kidscreen »Archive» BYJU acquires Tynker coding platform
Indian edtech company BYJU is expanding its shopping spree with the acquisition of the Tynker educational coding platform (pictured). The nine-digit deal follows recent purchases by BYJU in the AR and digital reading platform spaces.
Tynker will continue to operate as a separate entity under the umbrella of BYJU, and co-founders Krishna Vedati, Srinivas Mandyam and Kelvin Chong will remain at the helm.
According to a press release, more than 60 million children and 100,000 schools around the world have used Tynker, which launched in 2013 and uses games to teach children to code. The platform has also partnered with a number of well-known brands looking to enter the world of early learning coding, including Mattel, NASA and BBC Learning.
This latest acquisition gives BYJU access to Tynker's existing user base and helps the tech company (which has roots in learning applications) to expand into children's coding for the first time.
Edtech exploded during the pandemic, when many parents turned to learning programs to supplement their children's virtual classroom education. As a result of this heightened interest in the category, BYJU's valuation rose to US $ 16.5 billion following a funding round in June, according to the company.
BYJU has grown rapidly in the US market since acquiring AR Osmo for US $ 120 million in 2019 and the digital reading platform Epic for US $ 500 million in July. These measures are part of techco's strategic goal to invest US $ 1 billion in the electronics technology market in the United States over the next three years.
The company has also sought out major partnerships as part of this North American expansion plan, teaming up with Disney in July to launch a new AR educational app and exercise books featuring characters from the giant ice cream maker. media.